2018 Calendar Getting Around with the Las Vegas Region
Note: This is the 2018 Event Calendar for the Las Vegas Region.
Note that we've put our own
LVR events
in
BLACK

(except for date changes)

.
Non-region
events are
listed in blue
and are sometimes described down toward the end of the Newsletter.
Board meetings are usually held on the first Wednesday at Gaudin Porsche.
Members' Breakfasts are held at the Red Rock Country Club.
11 (Sun) Members' Breakfast at the RRCC




11 (Sun) Escape Room Adventure.

Following today's breakfast, 19 LVR members embarked on an adventure to

Escape from the mundane.

See below.




17 (Sat) Drive to Oatman and then to the Grand Canyon Skywalk.

Details below.




24 (Sat) Tech Session at Premier Sportscar

Service; suspension and handling. Details below.




(Sat-Sun) Spring Mountain Motor Resort




10 (Sat) Drive to Death Valley, with lunch at the Furnace Creek Inn.




11 (Sun) Members' Breakfast at the RRCC.

Note this is the 2nd Sunday.




25 (Sun) Gambler's Rally. Test your card and




8 (Sun) Members' Breakfast at the RRCC

After breakfast, a drive up to Mt. Charleston




21 (Sat) Progressive Garage Tour/Dinner

Four garages, four courses:

Watch this site for details




25-29 Treffen Tamaya.

Hyatt Regency

Registration is open, see below.




6 (Sun) Members' Breakfast at the RRCC




12-13 Fast Fling DE Event

(Sat-Sun) Spring Mountain Motor

Resort




19-20 Drive to Zion, UT. An overnight trip.




3 (Sun) Members' Breakfast at the RRCC




8-11

Drive to Flagstaff, rally with the




2018

(No Board meeting in July)

8-14 Porsche Parade

(Sun-Sat) Lake of the Ozarks




20-29 Multi-day drive to Glacier

(Sun-Sun) National Park. Details forthcoming




17-19 Porsche on the Mac


Inaugural Porsches Across the Mackinac Bridge.

If you are interested, check out the dedicated website for event details, lodging and registration information:

23-24 Fall Fling DE Even

t

(Sat-Sun) Spring Mountain Motor

Resort




27-30 Rennsport Reunion VI




17-18 Final Fling DE Even

t

(Sat-Sun) Spring Mountain Motor

Resort




State Park Tours will return in the fall




Recurring events

Cars and Coffee at SpeedVegas

14200 S. Las Vegas Blvd.

The 3rd Saturday of each month will be "SuperCar Saturday" so bring your Super Porsche!




Last Sunday of Each Month

Cars und Kaffee @ Vesta Cafe DTLV




* Dates are tentative.



___________________________________________________________
Editor's Thoughts:
This article won't be read by a single person that it's about.
Here's the thing. Each week, this Newsletter is sent out to over 650 folks (last week, 665). Most, but not nearly all, are LVR members. Many are people who have simply expressed interest in receiving it.
Then the email is opened only by about 350 to 375 of those to whom it's sent. So what happens, we always wonder, to the rest? We suspect that many who don't look at the Newsletter have sold their Porsches or have otherwise lost interest in Porsche-related activities. Maybe the Newsletter is too political for some, and they've abandoned us.
But whatever. We're continually adding new members or in-transfers.
Here's the point. The cost of the Newsletter is related to the number of emails that our service, Constant Contact, sends for us. Unopened Newsletters are each a small waste. Unlike the Federal government, we try to avoid this.
Every year or two, we purge the Newsletter distribution. We go through the list, name by name, and eliminate any who have not opened the Newsletter for 12 months. In 2013, we dropped 137; in 2015 we jettisoned 97, and last week 98 were erased. We doubt that any of these folks will realize it.
We hope that those of you who still receive this will enjoy it and be informed. Those of you who don't get this, but still want to, let us know.
_____________________________________________________________

Notices from the Board:
LVR President Scott Hatcher attended the Zone 8 Annual Presidents' meeting in January. He came back with the 2018 Rule Book for Zone 8 activities of all types, and passed out copies to the various event chairmen. So we'll be up-to-date in things we do. He also reported a few interesting items:
There are now 143 Regions in PCA;
There's a new region in Arizona, called the Arizona Mountain Region, a split-off from the Region in Phoenix;
Almost half of the Zone 8 Region Presidents are new in the job for 2018;
Several Zone 8 Regions hold a BBQ for new members annually, whereas we have been doing breakfast (look for a BBQ here this year).
News re: the monthly Members' Breakfast at the Red Rock Country Club:
For the remainder of 2018, the all-in charge for breakfast will be $16.50 pp. This now includes gratuity for the Club staff.
____________________________________________________________________
Members Dream Cars . . . Salomon and Jackie Braun report that Helga has found a brother from another mother! Is that Hans or Ian?
If you or a family member have a recently
acquired a Porsche and would like to share it with us, send a picture and short caption to:
james.w.miller@icloud.com
and we will highlight in a future newsletter.
____________________________________________________
Now . . . .
on to the Coming (or just happened) Events
_____________________________________________________________
Feb 11 (today): Members' Breakfast at the Red Rock Country Club, 9 am
There's this place on Durango called "Escapeability".
Following our monthly breakfast at the Red Rock Country Club, a group of 19 enthusiastic members took a step back to an earlier day in Las Vegas to do one of
their Escape adventures - the takeover of a Casino. And our reaction was "What the hell just happened?"
We arrived eager to begin our journey in what looked a lot like the twilight zone.
We prepared for our adventure by playing some games from an earlier era or being "Knighted".
They divided us into two groups of about 10 each (which we dubbed as the Guards Red and Jet Black Porsche groups). After a brief video introduction by someone strikingly like a consigliere from the Godfather, each group escorted into a separate room with all kinds of Las Vegas-related stuff from the 1920s: Posters, slot machines, gambling tables with chips and cards, locked drawers and cabinets, a video playing, photos of mob figures, and so on.
As the last of us crossed the threshold an ominous click indicated we were locked in and on our own
to figure out how to progress from one room to another and then to escape the complex altogether without getting "
whacked".
We had chosen the hardest of their "escapes." We were given an hour to decipher clues which ranged from clever, to subtle, to obscure, to "What?"
The Guards Red team got out while the Jet Black team fate is unclear.
We assume they are sleeping with the fishes (or is that drinking like fishes?).
Lots of fun. A Very Special Thanks to Scott and Gwen Pearce for setting it up.
___________________________________________________________________
Feb 17 (Sat): Day drive to the Grand Canyon Skywalk (six days from now)
A day drive to the Skywalk on the Grand Canyon, by way of Oatman for Lunch.

This is a "pay-as-you-go" event.

Meeting Location:
Fiesta Henderson Hotel & Casino, 777 W. Lake Mead Pkwy, Henderson, NV 89015
Time:
Driver's meeting at 08:30am, Departure at 09:00am
Total Drive:
Approximately 217 miles.
A

Special Not
e
here...... the Skywalk experience is relatively expensive.
It appears that fees to enter the park are around $50pp (not per car) and a walk on the Skywalk is an additional $22pp for a total of $72pp.
An alternative is the drive to Oatman for lunch (Leg 1 below) and then return home.
Starting Point:
Fiesta Henderson Hotel & Casino, 777 W. Lake Mead Pkwy, Henderson, NV 89015
Leg 1: Fiesta Henderson Hotel & Casino
to
Oatman, Arizona 86433 (will have lunch in Oatman) and back
home or Leg 2a or Leg 2b - - -
Leg 2a: Oatman, Arizona 86433 to
Grand Canyon Skywalk, Eagle Point Road, Peach Springs, AZ 86434
and on to the Grand Canyon Western Ranch,
3750 E. Diamond Bar Rd., Meadview, Arizona 86444 for dinner.
Leg2b: Oatman to Grand Canyon Western Ranch for socializing and dinner with those who do Leg 2a.
Ending Point:
Grand Canyon Skywalk, Eagle Point Road, Peach Springs, AZ 86434
For any questions and to RSVP contact contact Alex Harbison:
_____________________________________________________________________
Feb 24 (Sat): Tech Session at Premier Sportscar Service
Following up on the successful tech session on fluids several months ago, where we darn near wore out the presenters with questions, this will be another joint presentation by Kent Moore and Tony Mazzagatti, this time on suspension and handling of our Porsches.
It will be held at Premier Sportscar Service, 5325 Polaris Ave, Las Vegas. Time: TBD
____________________________________________________________
March 11 (Sunday): Members' Breakfast at the Red Rock Country Club, 9 am
Note - as with this month, our breakfast will be
SECOND
Sunday of March.
________________________________________________________________________
March 25 (Sunday): The
Gamblers
Rally. An LVR fun event.
An entertaining (we hope) and easy Sunday drive, ending at lunch, along which you can test your luck at cards and dice.
The start will be at 9:30 am under the big sign at the Henderson Fiesta, with the first car off at about 10:00. No cost to enter. Nothing to bring except your car and yourselves (maybe bring a pencil or a pen). No timing or speeds required. About 2 to 2-1/2 hours in duration.
Families and 4-door Porsches welcome. Prizes for the podium finishers.
____________________________________________________________________________
April 25-29: Treffen Tamaya, New Mexico
Save the Date! Treffen Tamaya in New Mexico to take place April 25-29, 2018. Registration is open, details and link below.
For those planning on attending the Treffen, we are making plans for a caravan drive to New Mexico with some exciting roads, vistas, and nutritional
delights along the way. Details will be forthcoming.
Treffen North America is Porsche Club of America's newest twice-a-year national event, featuring non-competitive touring, creative dining events and the opportunity to explore exciting destinations while staying at some of the finest resorts in North America. Translated from German, Treffen means "to meet," and you're sure to meet new people and make new friends. Treffen and Porsche Parade destinations are selected to offer annually a national PCA activity within driving distance of the membership.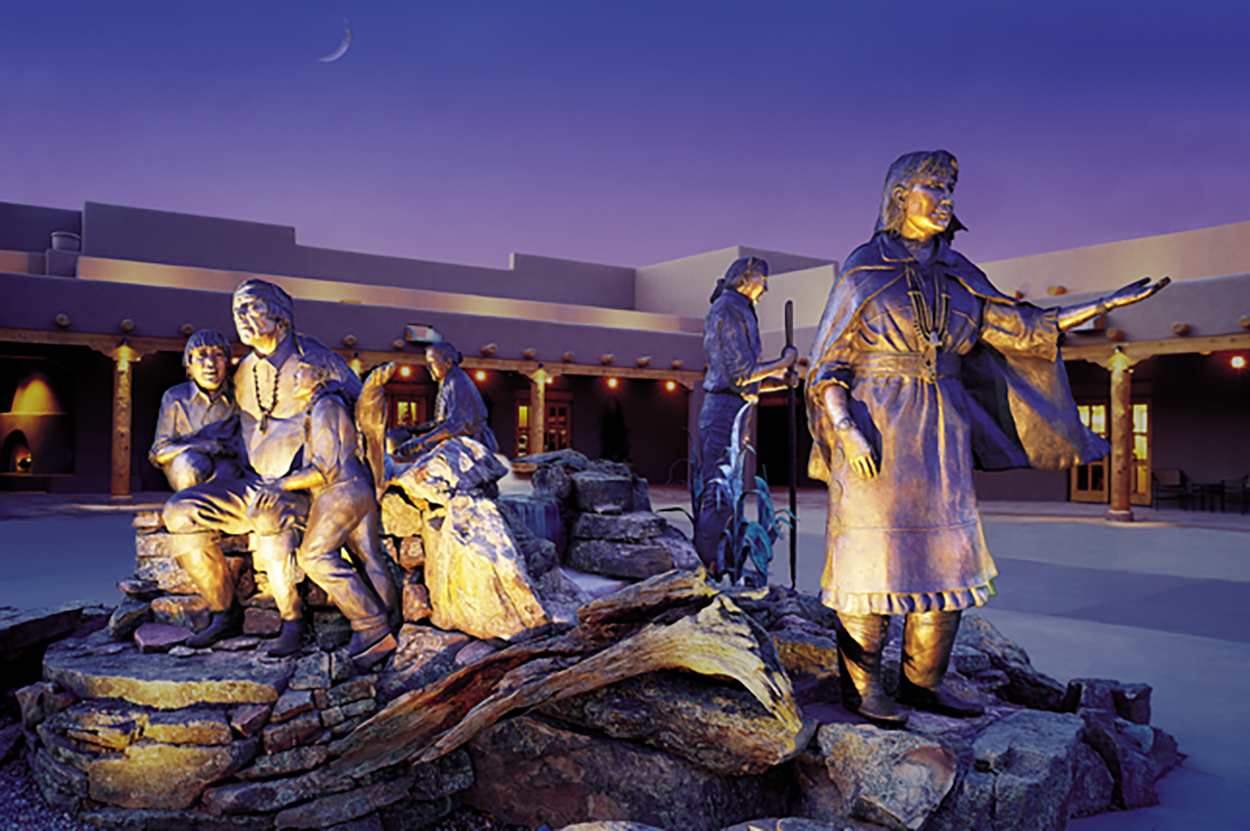 Drive:
Experience some of North America's best driving roads. New Mexico is home to 25 of the magnificent scenic byways, totaling over 2,900 miles across a diverse landscape.
Dine:
Savor the sumptuous blend of flavors, from Spanish and Native American cultures, that has been perfected over the course of 400 years.
Explore:
New Mexico offers a host of sensual destinations including exceptional vistas, adventurous outdoor recreation
and diverse artists and artisan galle
ries.
Registration fee of $450 - separate from Drive and Tour fees - includes:
Continental Breakfast on Thursday, and Saturday

Cars and Coffee Breakfast on Friday (Hot Breakfast will be served)

Themed dinner event at Hyatt Regency Tamaya Resort on Thursday

Tapas reception and dinner on Friday

Route 66 dinner on Saturday

Apparel with event logo
Check back here
over
the next
few
weeks as more details of the event become available. Go to Treffen.PCA.org for information on the event and the schedule of activities and drives including additional costs.
___________________________________________________________________
July 20 -29: Glacier Park Tour; The LVR summer Multi-day driving trip.
The first hotel check-in is booked for July 22 in the area of the park. It will probably take two days to get there so you might plan on leaving LV on July 20. The last hotel date booked is July 28.
This will be a trip with members of the Golden Gate Region, just as the Vancouver drive was last summer.
More info to come as details are developed.
_________________________________________________________________

Before We Go . . .
Sign that the end of the automotive world is near:
====================================================================
LAS VEGAS REGION BOARD OF DIRECTORS
A.
Executive Board:
Director - 1 year Richard Viktora
rviktora@cox.net
(646-591-9343)
Drive Event Chairman Alex Harbison
maverick1715@gmail.com
(702-553-5334)
________________________________________________________________
To order your Las Vegas Region, Porsche Club name tag, please print clearly the name you want on each tag. Enclose a check or money order for $10.00 made out to Abbott Trophy with your return address printed clearly. Mail to:
Mike will send your name tag back to you within 10 days to the address you indicate.
As an alternate, Trophies of Las Vegas has a metallic-material badge available, featuring an attractive brushed metal surface, with your choice of lettering.These cost $10.00 as well. The Club Emblem in cloisonne may be affixed, forming a very attractive name badge. The cloisonne emblems are generally available at each Members' Breakfast or at a Board meeting for $5.00. Contact:
________________________________________________________________________
Porsche-related Embroidery available
Creative Embroidery: the business that embroiders the word "Porsche" or the Las Vegas Region logo on shirts, jackets, tees, or other fabrics.
(in the northwest quadrant of the intersection of Bermuda Rd. and Warm Springs.)
They can put the name of our favorite car in the proper-appearing letters like the factory uses, and have the master for the Las Vegas Region logo (the one that appears similar to the iconic "Welcome to Las Vegas" sign on Las Vegas Blvd).
________________________________________________________________________